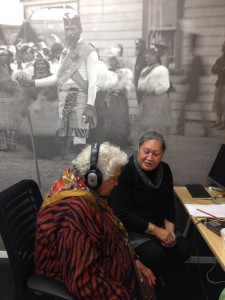 Te Pūtē Routiriata nei: he pūtē reo, tikanga, mōhiotanga me mātauranga tuku iho hoki mō Taranaki whānui ki ngā tai e whā. Tirohia mai, tāpirihia mai he whakaahua, he kaponga maumahara, he kōrero hoki mō tō whānau, mō tō hapori ki tā tātou kete kōrero.
Te Pūtē Routiriata o Taranaki is the community archive of Taranaki whānui.
It houses treasured aspects of Taranaki Māori identity, language and history. Archiving is one of four areas identified in the Taranaki Māori Language Strategy as critical to revitalising Taranaki reo – the Taranaki regional dialect.
There are two parts to Te Pūtē Routirita: our soon-to-be launched online digital archive, which will allow whānau to browse and add images, memories, information and kōrero about whānau and whenua. Our physical archive, training and research centre in Ngāmotu is where whānau, hapū and iwi can gain the skills and knowledge they need to care for their own taonga tuku iho, and taonga kōrero through archiving and oral history training courses.
E maha ngā rōpū a-iwi, a-hapū, a-whānau, a-hapori hoki e tautoko ana i te kaupapa nei. 
Many iwi, hapū, whānau and community organisations are involved in this kaupapa. Te Pūtē Routiriata also relies on input from our students, and volunteers in the community.
For more information about Te Reo o Taranaki's archive, projects and training opportunities please get in touch with archive coordinator Tania Hodges-Paul: puteroutiriata@gmail.com, 06 76 999 24